Best Bar window guards are an effective solution to deter and prevent break-and-enter crimes. These window bars are strong and economical. Steel construction, powder-coated white, and available in 12 expandable models to cover most window sizes.
Egress or hinged window bars are required in all bedrooms and other rooms where people may sleep. Fixed-style window bars do not allow for quick and easy escape. These can be installed in garages, laundry rooms, furnace rooms, and other rooms. When installing window bars just remember to allow 2 points of egress from every bedroom or any room where a person could be unconscious or trapped and unable to exit through the door.
Pricing for best bar security bars is based on style (hinged or fixed) and sizing. The following chart has pricing listed accordingly. Please call us at 403-262-9955 with questions or stock inquiries.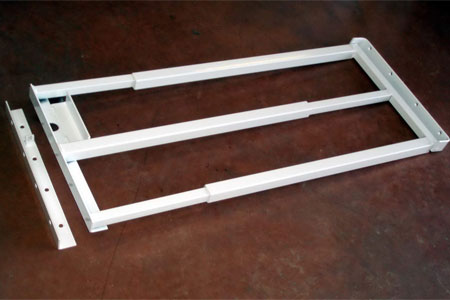 2-Bars Pricing
2-bar Fixed
2-bar Hinged
For windows 8-17 inches tall.
2-Bar Fixed: ($69, $97, $132)
2-Bar Hinged: ($114, $142, $177)
3-Bars Pricing
3-bar Fixed
3-bar Hinged
For windows 14-23 inches tall.
3-Bar Fixed: ($109, $152, $178)
3-Bar Hinged: ($154, $197, $224)
4-Bars Pricing
4-bar Fixed
4-bar Hinged
For windows 20-29 inches tall.
4-Bar Fixed: ($139, $193, $235)
4-Bar Hinged: ($184, $239, $280)
5-Bars Pricing
5-bar Fixed
5-bar hinged
For windows 26-35 inches tall.
5-Bar Fixed: ($194, $250, $306)
5-Bar Hinged: ($239, $294, $351)
Best Bars are available in 2, 3, 4, or 5-bar units and available in 3 adjustable widths:
Model 44: 24 inches to 44 inches wide
Model 64: 34 inches to 64 inches wide
Model 84: 44 inches to 84 inches wide
Select the correct size for your window(s):
Determine the Model for the width
Determine the number of Bars high
Determine egress/exit needs
For example: in a lower-level bedroom window, security bars must be hinged to open from the inside to allow occupants to exit in case of fire or danger. Whereas a laundry room does not require security bars to open from the inside.
Installation starts at $160.00 for the first window, within Calgary.
Request a Quote
Or, visit our showroom at 8080P 36 ST SE in Calgary.